Book Club XD
Your brand new selection of books for 7-11-year-olds is here!
From classic reads and TV tie-ins to reading schemes and maths revision guides, our
Book Club XD
range is carefully chosen by our team of experts to offer the very best books at fantastic discounts for children aged
7 to 11 years
.
Our latest Book Club is full of amazing value book packs, brand new bestsellers and fantastic fiction. Everything is
up to 60% off
, with books starting from just £2.99, and don't forget that
every order over £10 will earn your school 25% in free books
– so you can keep reading all year round. Take a look at the books below or browse the whole Book Club XD range
here
.
Not sure how
Scholastic Book Clubs
work?
Find out more
.
---
See more

Books under £2
Books under £2
gbp prices

Offer price:

£1.99

Rewards/RRP:

£2.99

gbp prices

Offer price:

£1.00

Rewards/RRP:

£2.39

gbp prices

Offer price:

£1.99

Rewards/RRP:

£6.99

gbp prices

Offer price:

£1.99

Rewards/RRP:

£4.99

gbp prices

Offer price:

£1.99

Rewards/RRP:

£6.99
See more

Film and TV favourites
Film and TV favourites
gbp prices

Offer price:

£29.99

Rewards/RRP:

£59.93

gbp prices

Offer price:

£16.99

Rewards/RRP:

£34.95

gbp prices

Offer price:

£4.99

Rewards/RRP:

£8.99

gbp prices

Offer price:

£3.99

Rewards/RRP:

£6.99

gbp prices

Offer price:

£8.99

Rewards/RRP:

£12.99

gbp prices

Offer price:

£3.99

Rewards/RRP:

£5.99

gbp prices

Offer price:

£6.99

Rewards/RRP:

£7.99

gbp prices

Offer price:

£6.99

Rewards/RRP:

£8.99

gbp prices

Offer price:

£4.99

Rewards/RRP:

£9.99

gbp prices

Offer price:

£3.99

Rewards/RRP:

£6.99

gbp prices

Offer price:

£5.99

Rewards/RRP:

£11.96

gbp prices

Offer price:

£2.99

Rewards/RRP:

£4.99

gbp prices

Offer price:

£4.99

Rewards/RRP:

£6.99

gbp prices

Offer price:

£4.99

Rewards/RRP:

£5.99

gbp prices

Offer price:

£4.99

Rewards/RRP:

£6.99

gbp prices

Offer price:

£2.99

Rewards/RRP:

£4.99

gbp prices

Offer price:

£4.99

Rewards/RRP:

£8.99

gbp prices

Offer price:

£2.99

Rewards/RRP:

£4.99

gbp prices

Offer price:

£3.99

Rewards/RRP:

£6.99

gbp prices

Offer price:

£4.99

Rewards/RRP:

£6.99

gbp prices

Offer price:

£9.99

Rewards/RRP:

£14.99

gbp prices

Offer price:

£2.99

Rewards/RRP:

£3.99

gbp prices

Offer price:

£3.99

Rewards/RRP:

£4.99

gbp prices

Offer price:

£2.99

Rewards/RRP:

£4.99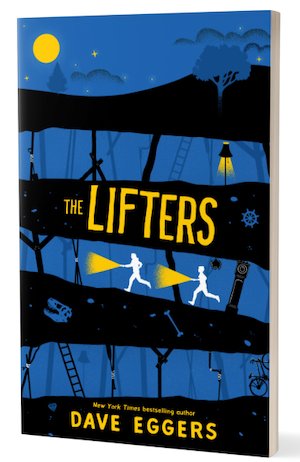 Our pick of the month
At the moment our book of the month is The Lifters by bestselling author Dave Eggers. What if the ground beneath your feet was not made of solid earth and stone but had been hollowed into hundreds of tunnels and passageways? Twelve-year-old Gran Flowerpetal is about to find out…

We're looking for 7-11-year-old book lovers to review books for us! Find out more
See more

Activities and stationery
Activities and stationery
gbp prices

Offer price:

£4.99

Rewards/RRP:

£7.99

gbp prices

Offer price:

£2.99

Rewards/RRP:

£4.99

gbp prices

Offer price:

£2.99

Rewards/RRP:

£5.99

gbp prices

Offer price:

£3.99

Rewards/RRP:

£6.99

gbp prices

Offer price:

£3.99

Rewards/RRP:

£6.99

gbp prices

Offer price:

£2.99

Rewards/RRP:

£5.99

gbp prices

Offer price:

£2.99

Rewards/RRP:

£4.99

gbp prices

Offer price:

£31.99

Rewards:

£76.89

RRP:

£83.88

gbp prices

Offer price:

£3.99

Rewards/RRP:

£6.99

gbp prices

Offer price:

£3.99

Rewards/RRP:

£7.99

gbp prices

Offer price:

£4.99

Rewards/RRP:

£9.99

gbp prices

Offer price:

£2.99

Rewards/RRP:

£5.99

gbp prices

Offer price:

£2.99

Rewards/RRP:

£6.99

gbp prices

Offer price:

£2.99

Rewards/RRP:

£5.99

gbp prices

Offer price:

£3.99

Rewards/RRP:

£6.99

gbp prices

Offer price:

£3.99

Rewards/RRP:

£5.99

gbp prices

Offer price:

£2.99

Rewards/RRP:

£11.98

gbp prices

Offer price:

£7.99

Rewards/RRP:

£50.91

gbp prices

Offer price:

£9.99

Rewards/RRP:

£71.87

gbp prices

Offer price:

£4.99

Rewards/RRP:

£5.99

gbp prices

Offer price:

£3.99

Rewards/RRP:

£6.99

gbp prices

Offer price:

£3.99

Rewards/RRP:

£6.99

gbp prices

Offer price:

£9.99

Rewards/RRP:

£14.99

gbp prices

Offer price:

£11.99

Rewards/RRP:

£24.95

gbp prices

Offer price:

£2.99

Rewards/RRP:

£3.99

gbp prices

Offer price:

£3.99

Rewards/RRP:

£5.99

gbp prices

Offer price:

£2.99

Rewards/RRP:

£5.99

gbp prices

Offer price:

£3.99

Rewards/RRP:

£5.99

gbp prices

Offer price:

£3.99

Rewards/RRP:

£5.99
See more

Fascinating facts
Fascinating facts
gbp prices

Offer price:

£4.99

Rewards/RRP:

£6.99

gbp prices

Offer price:

£4.99

Rewards/RRP:

£8.99

gbp prices

Offer price:

£9.99

Rewards/RRP:

£19.99

gbp prices

Offer price:

£4.99

Rewards/RRP:

£6.99

gbp prices

Offer price:

£3.99

Rewards/RRP:

£6.99

gbp prices

Offer price:

£3.99

Rewards/RRP:

£5.99

gbp prices

Offer price:

£6.99

Rewards/RRP:

£7.99

gbp prices

Offer price:

£6.99

Rewards/RRP:

£8.99

gbp prices

Offer price:

£4.99

Rewards/RRP:

£20.00

gbp prices

Offer price:

£5.99

Rewards/RRP:

£8.99

gbp prices

Offer price:

£4.99

Rewards/RRP:

£9.99

gbp prices

Offer price:

£2.99

Rewards/RRP:

£4.99

gbp prices

Offer price:

£14.99

Rewards/RRP:

£29.95

gbp prices

Offer price:

£4.99

Rewards/RRP:

£6.99

gbp prices

Offer price:

£4.99

Rewards/RRP:

£9.99

gbp prices

Offer price:

£2.99

Rewards/RRP:

£5.99

gbp prices

Offer price:

£9.99

Rewards/RRP:

£17.97

gbp prices

Offer price:

£24.99

Rewards/RRP:

£90.83

gbp prices

Offer price:

£2.99

Rewards/RRP:

£4.99

gbp prices

Offer price:

£3.99

Rewards/RRP:

£5.99

gbp prices

Offer price:

£3.99

Rewards/RRP:

£5.99

gbp prices

Offer price:

£29.99

Rewards/RRP:

£107.82

gbp prices

Offer price:

£3.99

Rewards/RRP:

£5.99

gbp prices

Offer price:

£3.99

Rewards/RRP:

£5.99

gbp prices

Offer price:

£4.99

Rewards/RRP:

£8.99

gbp prices

Offer price:

£9.99

Rewards/RRP:

£27.96

gbp prices

Offer price:

£6.99

Rewards/RRP:

£9.99

gbp prices

Offer price:

£2.99

Rewards/RRP:

£7.99
See more

Read the classics
Read the classics
gbp prices

Offer price:

£2.99

Rewards/RRP:

£6.99

gbp prices

Offer price:

£2.99

Rewards/RRP:

£6.99

gbp prices

Offer price:

£2.99

Rewards/RRP:

£7.99

gbp prices

Offer price:

£14.99

Rewards/RRP:

£41.93

gbp prices

Offer price:

£4.99

Rewards/RRP:

£6.99

gbp prices

Offer price:

£2.99

Rewards/RRP:

£6.99

gbp prices

Offer price:

£4.99

Rewards/RRP:

£7.99

gbp prices

Offer price:

£3.99

Rewards/RRP:

£5.99

gbp prices

Offer price:

£3.99

Rewards/RRP:

£6.99

gbp prices

Offer price:

£2.99

Rewards/RRP:

£3.99

gbp prices

Offer price:

£2.99

Rewards/RRP:

£4.99

gbp prices

Offer price:

£14.99

Rewards/RRP:

£29.95

gbp prices

Offer price:

£9.99

Rewards/RRP:

£23.96

gbp prices

Offer price:

£12.99

Rewards/RRP:

£27.96

gbp prices

Offer price:

£3.99

Rewards/RRP:

£6.99

gbp prices

Offer price:

£14.99

Rewards/RRP:

£31.96

gbp prices

Offer price:

£2.99

Rewards/RRP:

£4.99

gbp prices

Offer price:

£19.99

Rewards/RRP:

£49.90

gbp prices

Offer price:

£16.99

Rewards/RRP:

£30.00

gbp prices

Offer price:

£2.99

Rewards/RRP:

£5.99

gbp prices

Offer price:

£29.99

Rewards/RRP:

£108.80
See more

Books to make them laugh
Books to make them laugh
gbp prices

Offer price:

£9.99

Rewards/RRP:

£59.90

gbp prices

Offer price:

£3.49

Rewards/RRP:

£6.99

gbp prices

Offer price:

£29.99

Rewards/RRP:

£55.92

gbp prices

Offer price:

£7.99

Rewards/RRP:

£12.99

gbp prices

Offer price:

£3.49

Rewards/RRP:

£6.99

gbp prices

Offer price:

£8.99

Rewards/RRP:

£12.99

gbp prices

Offer price:

£9.99

Rewards/RRP:

£14.99

gbp prices

Offer price:

£4.99

Rewards/RRP:

£6.99

gbp prices

Offer price:

£6.99

Rewards/RRP:

£12.99

gbp prices

Offer price:

£3.99

Rewards/RRP:

£6.99

gbp prices

Offer price:

£4.99

Rewards/RRP:

£6.99

gbp prices

Offer price:

£3.49

Rewards/RRP:

£12.99

gbp prices

Offer price:

£24.99

Rewards/RRP:

£83.88

gbp prices

Offer price:

£2.99

Rewards/RRP:

£4.99

gbp prices

Offer price:

£10.49

Rewards/RRP:

£34.93
See more

Books for animal lovers
Books for animal lovers
gbp prices

Offer price:

£9.99

Rewards/RRP:

£59.90

gbp prices

Offer price:

£2.99

Rewards/RRP:

£4.99

gbp prices

Offer price:

£3.99

Rewards/RRP:

£5.99

gbp prices

Offer price:

£4.99

Rewards/RRP:

£6.99

gbp prices

Offer price:

£3.99

Rewards/RRP:

£5.99

gbp prices

Offer price:

£17.99

Rewards/RRP:

£49.90

gbp prices

Offer price:

£14.99

Rewards/RRP:

£29.95

gbp prices

Offer price:

£2.99

Rewards/RRP:

£4.99

gbp prices

Offer price:

£4.99

Rewards/RRP:

£6.99

gbp prices

Offer price:

£3.99

Rewards/RRP:

£5.99

gbp prices

Offer price:

£9.99

Rewards/RRP:

£34.95

gbp prices

Offer price:

£6.99

Rewards/RRP:

£10.99

gbp prices

Offer price:

£3.49

Rewards/RRP:

£6.99

gbp prices

Offer price:

£3.99

Rewards/RRP:

£5.99

gbp prices

Offer price:

£6.99

Rewards/RRP:

£10.99

gbp prices

Offer price:

£3.99

Rewards/RRP:

£5.99

gbp prices

Offer price:

£3.99

Rewards/RRP:

£5.99

gbp prices

Offer price:

£4.99

Rewards/RRP:

£7.99

gbp prices

Offer price:

£2.99

Rewards/RRP:

£5.99

gbp prices

Offer price:

£5.99

Rewards/RRP:

£9.98
See more

Award-winning authors and illustrators
Award-winning authors and illustrators
gbp prices

Offer price:

£2.99

Rewards/RRP:

£6.99

gbp prices

Offer price:

£2.99

Rewards/RRP:

£6.99

gbp prices

Offer price:

£29.99

Rewards/RRP:

£59.93

gbp prices

Offer price:

£2.99

Rewards/RRP:

£7.99

gbp prices

Offer price:

£3.99

Rewards/RRP:

£6.99

gbp prices

Offer price:

£16.99

Rewards/RRP:

£34.95

gbp prices

Offer price:

£3.49

Rewards/RRP:

£6.99

gbp prices

Offer price:

£29.99

Rewards/RRP:

£55.92

gbp prices

Offer price:

£7.99

Rewards/RRP:

£12.99

gbp prices

Offer price:

£3.49

Rewards/RRP:

£6.99

gbp prices

Offer price:

£8.99

Rewards/RRP:

£12.99

gbp prices

Offer price:

£4.99

Rewards/RRP:

£6.99

gbp prices

Offer price:

£4.99

Rewards/RRP:

£6.99

gbp prices

Offer price:

£9.99

Rewards/RRP:

£14.99

gbp prices

Offer price:

£3.99

Rewards/RRP:

£6.99

gbp prices

Offer price:

£3.99

Rewards/RRP:

£7.99

gbp prices

Offer price:

£4.99

Rewards/RRP:

£6.99