Book Club XD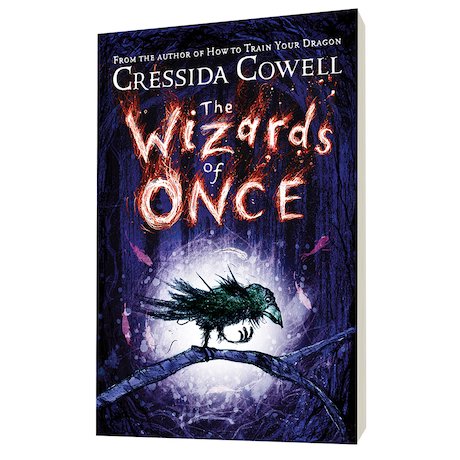 From classic reads and TV tie-ins to reading schemes and maths revision guides, our Book Club XD range is carefully chosen by our team of experts to offer the very best books at fantastic discounts for children aged 7 to 11 years.
Our January Book Club is full of amazing value book packs, brand new bestsellers and fantastic fiction. Everything is up to 70% off, with books starting from just £2.99, and don't forget that every order over £10 will earn you and your school 25% in free books – so you can keep reading all year round.
One of our favourite books currently on offer is
The Wizards of Once
, the brand new book from the author of How to Train Your Dragon. This whirlwind fantasy set in an ancient, magical time is bursting with wizards, warriors, giants and sprites – plus it's available in paperback exclusively for Scholastic customers!
See more

New year, new books!
New year, new books!
gbp prices

Offer price:

£3.99

Rewards/RRP:

£6.99

gbp prices

Offer price:

£3.99

Rewards/RRP:

£5.99

gbp prices

Offer price:

£3.99

Rewards/RRP:

£6.99

gbp prices

Offer price:

£3.99

Rewards/RRP:

£6.99

gbp prices

Offer price:

£19.99

Rewards/RRP:

£128.80

gbp prices

Offer price:

£2.99

Rewards/RRP:

£6.99

gbp prices

Offer price:

£9.99

Rewards/RRP:

£32.95

gbp prices

Offer price:

£3.99

Rewards/RRP:

£4.99

gbp prices

Offer price:

£3.49

Rewards/RRP:

£6.99

gbp prices

Offer price:

£39.99

Rewards/RRP:

£130.74

gbp prices

Offer price:

£4.99

Rewards/RRP:

£9.99

gbp prices

Offer price:

£8.99

Rewards/RRP:

£12.99

gbp prices

Offer price:

£4.99

Rewards/RRP:

£7.99

gbp prices

Offer price:

£4.99

Rewards/RRP:

£7.99

gbp prices

Offer price:

£24.99

Rewards/RRP:

£104.80

gbp prices

Offer price:

£16.99

Rewards/RRP:

£30.00

gbp prices

Offer price:

£3.99

Rewards/RRP:

£5.99

gbp prices

Offer price:

£24.99

Rewards/RRP:

£100.80

gbp prices

Offer price:

£3.99

Rewards/RRP:

£6.99

gbp prices

Offer price:

£7.99

Rewards/RRP:

£12.99

gbp prices

Offer price:

£5.99

Rewards/RRP:

£8.99

gbp prices

Offer price:

£3.99

Rewards/RRP:

£6.99

gbp prices

Offer price:

£7.99

Rewards/RRP:

£12.99

gbp prices

Offer price:

£7.99

Rewards/RRP:

£17.97

gbp prices

Offer price:

£5.99

Rewards/RRP:

£9.99

gbp prices

Offer price:

£9.99

Rewards/RRP:

£20.00

gbp prices

Offer price:

£9.99

Rewards/RRP:

£23.97

gbp prices

Offer price:

£6.99

Rewards/RRP:

£12.99

gbp prices

Offer price:

£4.99

Rewards/RRP:

£6.99
See more

TV and film favourites
TV and film favourites
gbp prices

Offer price:

£29.99

Rewards/RRP:

£59.93

gbp prices

Offer price:

£16.99

Rewards/RRP:

£34.95

gbp prices

Offer price:

£4.99

Rewards/RRP:

£8.99

gbp prices

Offer price:

£19.99

Rewards/RRP:

£71.88

gbp prices

Offer price:

£8.99

Rewards/RRP:

£12.99

gbp prices

Offer price:

£3.99

Rewards/RRP:

£5.99

gbp prices

Offer price:

£34.99

Rewards/RRP:

£83.88

gbp prices

Offer price:

£4.99

Rewards/RRP:

£9.99

gbp prices

Offer price:

£4.99

Rewards/RRP:

£7.99

gbp prices

Offer price:

£4.99

Rewards/RRP:

£7.99

gbp prices

Offer price:

£6.99

Rewards/RRP:

£8.99

gbp prices

Offer price:

£2.99

Rewards/RRP:

£5.99

gbp prices

Offer price:

£34.99

Rewards/RRP:

£69.90

gbp prices

Offer price:

£5.99

Rewards/RRP:

£11.96

gbp prices

Offer price:

£2.99

Rewards/RRP:

£4.99

gbp prices

Offer price:

£2.99

Rewards/RRP:

£4.99

gbp prices

Offer price:

£1.99

Rewards/RRP:

£3.99

gbp prices

Offer price:

£6.99

Rewards/RRP:

£9.99

gbp prices

Offer price:

£2.99

Rewards/RRP:

£7.99

gbp prices

Offer price:

£7.99

Rewards/RRP:

£12.99

gbp prices

Offer price:

£34.99

Rewards/RRP:

£109.78

gbp prices

Offer price:

£9.99

Rewards/RRP:

£14.99

gbp prices

Offer price:

£4.99

Rewards/RRP:

£6.99

gbp prices

Offer price:

£4.99

Rewards/RRP:

£7.99
See more

Activities and stationery for creative children
Activities and stationery for creative children
gbp prices

Offer price:

£9.99

Rewards/RRP:

£19.99

gbp prices

Offer price:

£2.99

Rewards/RRP:

£5.99

gbp prices

Offer price:

£2.99

Rewards/RRP:

£6.99

gbp prices

Offer price:

£2.99

Rewards/RRP:

£5.99

gbp prices

Offer price:

£2.99

Rewards/RRP:

£4.99

gbp prices

Offer price:

£2.99

Rewards/RRP:

£5.99

gbp prices

Offer price:

£2.99

Rewards/RRP:

£5.99

gbp prices

Offer price:

£3.99

Rewards/RRP:

£5.99

gbp prices

Offer price:

£2.99

Rewards/RRP:

£6.99

gbp prices

Offer price:

£2.99

Rewards/RRP:

£7.99

gbp prices

Offer price:

£2.99

Rewards/RRP:

£5.99

gbp prices

Offer price:

£3.99

Rewards/RRP:

£6.66

gbp prices

Offer price:

£2.99

Rewards/RRP:

£4.99

gbp prices

Offer price:

£9.99

Rewards/RRP:

£19.99

gbp prices

Offer price:

£9.99

Rewards/RRP:

£14.99

gbp prices

Offer price:

£2.99

Rewards/RRP:

£5.99

gbp prices

Offer price:

£4.99

Rewards/RRP:

£6.99

gbp prices

Offer price:

£4.99

Rewards/RRP:

£7.99

gbp prices

Offer price:

£4.99

Rewards/RRP:

£7.99

gbp prices

Offer price:

£7.99

Rewards/RRP:

£12.99

gbp prices

Offer price:

£2.99

Rewards/RRP:

£4.99

gbp prices

Offer price:

£1.99

Rewards/RRP:

£4.99

gbp prices

Offer price:

£1.99

Rewards/RRP:

£4.99

gbp prices

Offer price:

£4.99

Rewards/RRP:

£7.99
See more

Books under £2
Books under £2
gbp prices

Offer price:

£1.99

Rewards/RRP:

£5.99

gbp prices

Offer price:

£1.99

Rewards/RRP:

£5.99

gbp prices

Offer price:

£1.99

Rewards/RRP:

£3.99

gbp prices

Offer price:

£1.99

Rewards/RRP:

£6.99

gbp prices

Offer price:

£1.99

Rewards/RRP:

£6.99

gbp prices

Offer price:

£1.99

Rewards/RRP:

£7.99

gbp prices

Offer price:

£1.99

Rewards/RRP:

£4.99

gbp prices

Offer price:

£1.99

Rewards/RRP:

£3.99

gbp prices

Offer price:

£1.99

Rewards/RRP:

£4.99

gbp prices

Offer price:

£1.99

Rewards/RRP:

£4.99

gbp prices

Offer price:

£1.99

Rewards/RRP:

£4.99

gbp prices

Offer price:

£1.99

Rewards/RRP:

£7.99

gbp prices

Offer price:

£1.99

Rewards/RRP:

£5.99

gbp prices

Offer price:

£1.99

Rewards/RRP:

£5.99

gbp prices

Offer price:

£1.99

Rewards/RRP:

£5.99

gbp prices

Offer price:

£1.99

Rewards/RRP:

£4.99

gbp prices

Offer price:

£1.99

Rewards/RRP:

£3.99

gbp prices

Offer price:

£1.99

Rewards/RRP:

£5.99

gbp prices

Offer price:

£1.99

Rewards/RRP:

£5.99

gbp prices

Offer price:

£1.99

Rewards/RRP:

£4.99

gbp prices

Offer price:

£1.99

Rewards/RRP:

£6.99

gbp prices

Offer price:

£1.99

Rewards/RRP:

£4.99

gbp prices

Offer price:

£1.99

Rewards/RRP:

£6.99

gbp prices

Offer price:

£1.99

Rewards/RRP:

£4.99

gbp prices

Offer price:

£1.99

Rewards/RRP:

£3.99

gbp prices

Offer price:

£1.99

Rewards/RRP:

£5.99
See more

Read the classics
Read the classics
gbp prices

Offer price:

£29.99

Rewards/RRP:

£66.90

gbp prices

Offer price:

£2.99

Rewards/RRP:

£6.99

gbp prices

Offer price:

£12.99

Rewards/RRP:

£41.94

gbp prices

Offer price:

£9.99

Rewards/RRP:

£32.95

gbp prices

Offer price:

£14.99

Rewards/RRP:

£41.93

gbp prices

Offer price:

£16.99

Rewards/RRP:

£30.00

gbp prices

Offer price:

£1.99

Rewards/RRP:

£6.99

gbp prices

Offer price:

£25.99

Rewards/RRP:

£84.83

gbp prices

Offer price:

£1.99

Rewards/RRP:

£5.99

gbp prices

Offer price:

£16.99

Rewards/RRP:

£30.00

gbp prices

Offer price:

£14.99

Rewards/RRP:

£29.95

gbp prices

Offer price:

£1.99

Rewards/RRP:

£5.99

gbp prices

Offer price:

£16.99

Rewards/RRP:

£30.00

gbp prices

Offer price:

£4.99

Rewards/RRP:

£6.99

gbp prices

Offer price:

£17.99

Rewards/RRP:

£31.92

gbp prices

Offer price:

£9.99

Rewards/RRP:

£23.97
See more

Get ready for Harry Potter Night
Get ready for Harry Potter Night
gbp prices

Offer price:

£2.99

Rewards/RRP:

£5.99

gbp prices

Offer price:

£8.99

Rewards/RRP:

£12.99

gbp prices

Offer price:

£29.99

Rewards/RRP:

£59.93

gbp prices

Offer price:

£16.99

Rewards/RRP:

£30.00

gbp prices

Offer price:

£16.99

Rewards/RRP:

£30.00

gbp prices

Offer price:

£2.99

Rewards/RRP:

£5.99

gbp prices

Offer price:

£2.99

Rewards/RRP:

£5.99

gbp prices

Offer price:

£2.99

Rewards/RRP:

£5.99

gbp prices

Offer price:

£9.99

Rewards/RRP:

£23.96

gbp prices

Offer price:

£16.99

Rewards/RRP:

£30.00

gbp prices

Offer price:

£3.99

Rewards/RRP:

£6.99
See more

Favourite characters
Favourite characters
gbp prices

Offer price:

£3.99

Rewards/RRP:

£4.99

gbp prices

Offer price:

£16.99

Rewards/RRP:

£30.00

gbp prices

Offer price:

£6.99

Rewards/RRP:

£8.99

gbp prices

Offer price:

£5.99

Rewards/RRP:

£9.98

gbp prices

Offer price:

£2.99

Rewards/RRP:

£4.99

gbp prices

Offer price:

£1.99

Rewards/RRP:

£5.99

gbp prices

Offer price:

£3.99

Rewards/RRP:

£5.99

gbp prices

Offer price:

£1.99

Rewards/RRP:

£5.99

gbp prices

Offer price:

£1.99

Rewards/RRP:

£5.99

gbp prices

Offer price:

£1.99

Rewards/RRP:

£5.99

gbp prices

Offer price:

£1.99

Rewards/RRP:

£5.99

gbp prices

Offer price:

£1.99

Rewards/RRP:

£5.99

gbp prices

Offer price:

£2.99

Rewards/RRP:

£5.99

gbp prices

Offer price:

£2.99

Rewards/RRP:

£5.99

gbp prices

Offer price:

£2.99

Rewards/RRP:

£4.99

gbp prices

Offer price:

£4.99

Rewards/RRP:

£7.99

gbp prices

Offer price:

£1.99

Rewards/RRP:

£4.99

gbp prices

Offer price:

£2.99

Rewards/RRP:

£4.99

gbp prices

Offer price:

£1.99

Rewards/RRP:

£4.99

gbp prices

Offer price:

£2.99

Rewards/RRP:

£4.99

gbp prices

Offer price:

£2.99

Rewards/RRP:

£5.99

gbp prices

Offer price:

£1.99

Rewards/RRP:

£4.99

gbp prices

Offer price:

£2.99

Rewards/RRP:

£4.99

gbp prices

Offer price:

£4.99

Rewards/RRP:

£7.99

gbp prices

Offer price:

£1.99

Rewards/RRP:

£5.99

gbp prices

Offer price:

£2.99

Rewards/RRP:

£5.99
See more

Books to make them laugh
Books to make them laugh
gbp prices

Offer price:

£9.99

Rewards/RRP:

£59.90

gbp prices

Offer price:

£29.99

Rewards/RRP:

£66.90

gbp prices

Offer price:

£3.49

Rewards/RRP:

£6.99

gbp prices

Offer price:

£8.99

Rewards/RRP:

£12.99

gbp prices

Offer price:

£29.99

Rewards/RRP:

£55.92

gbp prices

Offer price:

£8.99

Rewards/RRP:

£12.99

gbp prices

Offer price:

£19.99

Rewards/RRP:

£71.88

gbp prices

Offer price:

£7.99

Rewards/RRP:

£12.99

gbp prices

Offer price:

£8.99

Rewards/RRP:

£12.99

gbp prices

Offer price:

£34.99

Rewards/RRP:

£83.88

gbp prices

Offer price:

£19.99

Rewards/RRP:

£83.88

gbp prices

Offer price:

£6.99

Rewards/RRP:

£12.99

gbp prices

Offer price:

£1.99

Rewards/RRP:

£5.99

gbp prices

Offer price:

£34.99

Rewards/RRP:

£69.90

gbp prices

Offer price:

£24.99

Rewards/RRP:

£90.83

gbp prices

Offer price:

£2.99

Rewards/RRP:

£4.99

gbp prices

Offer price:

£3.99

Rewards/RRP:

£10.99

gbp prices

Offer price:

£3.49

Rewards/RRP:

£6.99

gbp prices

Offer price:

£9.99

Rewards/RRP:

£27.96

gbp prices

Offer price:

£29.99

Rewards/RRP:

£107.82

gbp prices

Offer price:

£2.99

Rewards/RRP:

£4.99

gbp prices

Offer price:

£3.99

Rewards/RRP:

£5.99

gbp prices

Offer price:

£2.99

Rewards/RRP:

£4.99

gbp prices

Offer price:

£3.49

Rewards/RRP:

£6.99

gbp prices

Offer price:

£1.99

Rewards/RRP:

£6.99

gbp prices

Offer price:

£34.99

Rewards/RRP:

£109.78

gbp prices

Offer price:

£3.99

Rewards/RRP:

£6.99