Teen Book Club
Your brand new selection of books for 11+-year-olds is here!
Check out the latest
Teen Book Club
range to find your next favourite read. The newest and best YA fiction and non-fiction at up to
64% off
RRP.
Don't forget that every order over £10 will earn your school
25% in free books
– so you can keep reading all year round. Take a look at the books below or
browse the whole Teen Book Club range
.
Not sure how
Scholastic Book Clubs
work?
Find out more
.
---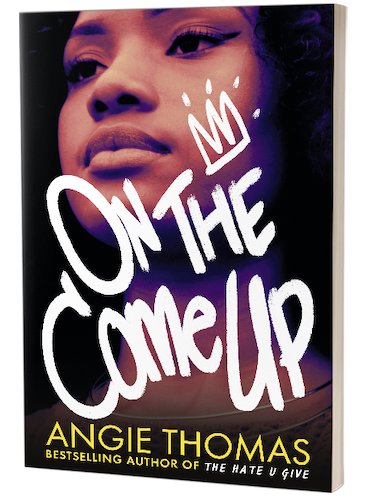 Our Book of the Month
For our May Book Club, we've chosen On the Come Up by Angie Thomas, bestselling author of The Hate U Give. It's a perfect choice for all ages from 13+ to adult – hugely relevant contemporary fiction that confronts today's big issues and powerfully engages readers in their world. Angie Thomas's new book is an ode to hip-hop with a stark message about the price of free speech.
We're delighted to be offering a
reading list
about
On the Come Up
to help you introduce the book in your classroom this term.
On the Come Up
is also available in class packs of
six
or
30
.
Are you a teen bookworm?
We're looking for teen book lovers to review books for us!
Find out more
.
---
See more

Award-winning authors
Award-winning authors
gbp prices

Offer price:

£3.99

Rewards/RRP:

£6.99

gbp prices

Offer price:

£4.99

Rewards/RRP:

£6.99

gbp prices

Offer price:

£2.99

Rewards/RRP:

£6.99

gbp prices

Offer price:

£3.49

Rewards/RRP:

£6.99

gbp prices

Offer price:

£8.99

Rewards/RRP:

£12.99

gbp prices

Offer price:

£9.99

Rewards/RRP:

£14.99

gbp prices

Offer price:

£2.99

Rewards/RRP:

£7.99

gbp prices

Offer price:

£29.99

Rewards/RRP:

£59.93

gbp prices

Offer price:

£3.49

Rewards/RRP:

£6.99

gbp prices

Offer price:

£12.99

Rewards/RRP:

£27.96

gbp prices

Offer price:

£8.99

Rewards/RRP:

£12.99

gbp prices

Offer price:

£3.99

Rewards/RRP:

£6.99

gbp prices

Offer price:

£4.99

Rewards/RRP:

£7.99

gbp prices

Offer price:

£2.99

Rewards/RRP:

£6.99

gbp prices

Offer price:

£4.99

Rewards/RRP:

£6.99

gbp prices

Offer price:

£17.99

Rewards/RRP:

£34.95

gbp prices

Offer price:

£5.99

Rewards/RRP:

£7.99

gbp prices

Offer price:

£4.99

Rewards/RRP:

£7.99

gbp prices

Offer price:

£2.99

Rewards/RRP:

£5.99

gbp prices

Offer price:

£16.99

Rewards/RRP:

£41.94

gbp prices

Offer price:

£9.99

Rewards/RRP:

£23.97

gbp prices

Offer price:

£9.99

Rewards/RRP:

£34.95

gbp prices

Offer price:

£4.99

Rewards/RRP:

£6.99

gbp prices

Offer price:

£3.49

Rewards/RRP:

£6.99

gbp prices

Offer price:

£14.99

Rewards/RRP:

£29.99
See more

Fascinating facts
Fascinating facts
gbp prices

Offer price:

£5.99

Rewards/RRP:

£8.99

gbp prices

Offer price:

£6.99

Rewards/RRP:

£9.99

gbp prices

Offer price:

£8.99

Rewards/RRP:

£12.99

gbp prices

Offer price:

£4.99

Rewards/RRP:

£6.99

gbp prices

Offer price:

£2.99

Rewards/RRP:

£5.99

gbp prices

Offer price:

£4.99

Rewards/RRP:

£7.99

gbp prices

Offer price:

£4.99

Rewards/RRP:

£7.99

gbp prices

Offer price:

£4.99

Rewards/RRP:

£7.99

gbp prices

Offer price:

£5.99

Rewards/RRP:

£9.99

gbp prices

Offer price:

£4.99

Rewards/RRP:

£7.99

gbp prices

Offer price:

£7.99

Rewards/RRP:

£12.99

gbp prices

Offer price:

£5.99

Rewards/RRP:

£8.99

gbp prices

Offer price:

£14.99

Rewards/RRP:

£29.95

gbp prices

Offer price:

£3.99

Rewards/RRP:

£7.99

gbp prices

Offer price:

£4.99

Rewards/RRP:

£8.99

gbp prices

Offer price:

£4.99

Rewards/RRP:

£9.98

gbp prices

Offer price:

£7.99

Rewards/RRP:

£27.96

gbp prices

Offer price:

£2.99

Rewards/RRP:

£4.99

gbp prices

Offer price:

£6.99

Rewards/RRP:

£9.99

gbp prices

Offer price:

£9.99

Rewards/RRP:

£29.95

gbp prices

Offer price:

£5.99

Rewards/RRP:

£7.99

gbp prices

Offer price:

£5.99

Rewards/RRP:

£8.99

gbp prices

Offer price:

£3.99

Rewards/RRP:

£6.99

gbp prices

Offer price:

£3.99

Rewards/RRP:

£6.99

gbp prices

Offer price:

£3.99

Rewards/RRP:

£5.99

gbp prices

Offer price:

£4.99

Rewards/RRP:

£7.99

gbp prices

Offer price:

£12.99

Rewards/RRP:

£35.94

gbp prices

Offer price:

£19.99

Rewards/RRP:

£83.86

gbp prices

Offer price:

£19.99

Rewards/RRP:

£69.87
See more

Funny books
Funny books
gbp prices

Offer price:

£3.49

Rewards/RRP:

£6.99

gbp prices

Offer price:

£8.99

Rewards/RRP:

£12.99

gbp prices

Offer price:

£9.99

Rewards/RRP:

£14.99

gbp prices

Offer price:

£3.49

Rewards/RRP:

£6.99

gbp prices

Offer price:

£12.99

Rewards/RRP:

£27.96

gbp prices

Offer price:

£8.99

Rewards/RRP:

£12.99

gbp prices

Offer price:

£3.99

Rewards/RRP:

£6.99

gbp prices

Offer price:

£4.99

Rewards/RRP:

£6.99

gbp prices

Offer price:

£2.99

Rewards/RRP:

£5.99

gbp prices

Offer price:

£16.99

Rewards/RRP:

£41.94

gbp prices

Offer price:

£4.99

Rewards/RRP:

£6.99

gbp prices

Offer price:

£3.49

Rewards/RRP:

£6.99

gbp prices

Offer price:

£4.99

Rewards/RRP:

£6.99

gbp prices

Offer price:

£4.99

Rewards/RRP:

£6.99

gbp prices

Offer price:

£2.99

Rewards/RRP:

£5.99

gbp prices

Offer price:

£3.99

Rewards/RRP:

£5.99

gbp prices

Offer price:

£3.99

Rewards/RRP:

£6.99

gbp prices

Offer price:

£12.99

Rewards/RRP:

£27.96

gbp prices

Offer price:

£29.99

Rewards/RRP:

£83.88

gbp prices

Offer price:

£2.99

Rewards/RRP:

£5.99

gbp prices

Offer price:

£7.99

Rewards/RRP:

£27.96

gbp prices

Offer price:

£11.99

Rewards/RRP:

£20.97

gbp prices

Offer price:

£3.99

Rewards/RRP:

£6.99

gbp prices

Offer price:

£4.99

Rewards/RRP:

£7.99
See more

Read what's on screen
Read what's on screen
gbp prices

Offer price:

£3.99

Rewards/RRP:

£7.99

gbp prices

Price:

£7.99

gbp prices

Offer price:

£3.99

Rewards/RRP:

£6.99

gbp prices

Offer price:

£29.99

Rewards/RRP:

£59.93

gbp prices

Price:

£6.99

gbp prices

Price:

£6.99

gbp prices

Offer price:

£2.99

Rewards/RRP:

£6.99

gbp prices

Offer price:

£17.99

Rewards/RRP:

£34.95

gbp prices

Offer price:

£4.99

Rewards/RRP:

£6.99

gbp prices

Offer price:

£29.40

Rewards/RRP:

£31.96

gbp prices

Price:

£6.99

gbp prices

Price:

£7.99

gbp prices

Offer price:

£9.99

Rewards/RRP:

£23.97

gbp prices

Price:

£7.99

gbp prices

Offer price:

£6.99

Rewards/RRP:

£11.99

gbp prices

Price:

£6.99

gbp prices

Price:

£6.99

gbp prices

Price:

£7.99

gbp prices

Offer price:

£7.99

Rewards/RRP:

£14.99

gbp prices

Offer price:

£4.99

Rewards/RRP:

£7.99

gbp prices

Price:

£6.99

gbp prices

Price:

£9.99

gbp prices

Price:

£7.99

gbp prices

Price:

£6.99

gbp prices

Offer price:

£14.99

Rewards/RRP:

£29.95