Teen Book Club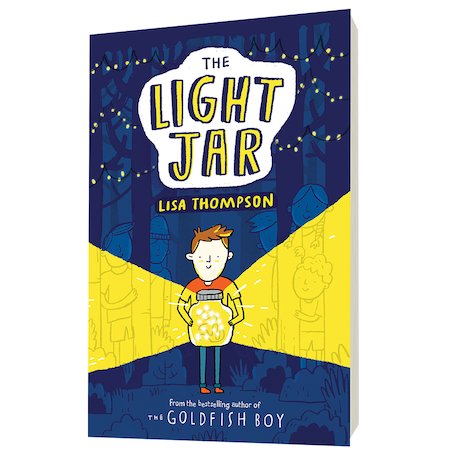 Check out the latest Teen Book Club range to find your next favourite read. The newest and best YA fiction and non-fiction at fantastic discounts.
Are you looking for a gripping new series to get into? Or perhaps some fun non-fiction? Our January Book Club has it all! Plus, everything is up to 70% off, with books starting from just £2.99, so there's a book suited to every budget. Don't forget that every order over £10 will earn you and your school 25% in free books – so you can keep reading all year round.
One of our favourite books currently on offer is
The Light Jar
, a brand new novel by Lisa Thompson, the author of bestselling debut The Goldfish Boy. This gripping mystery is full of heart and hope, and is sure to become a firm favourite in 2018.
See more

New year, new books!
New year, new books!
gbp prices

Offer price:

£3.99

Rewards/RRP:

£6.99

gbp prices

Offer price:

£4.99

Rewards/RRP:

£7.99

gbp prices

Offer price:

£3.99

Rewards/RRP:

£5.99

gbp prices

Offer price:

£3.99

Rewards/RRP:

£7.99

gbp prices

Offer price:

£3.99

Rewards/RRP:

£6.99

gbp prices

Offer price:

£2.99

Rewards/RRP:

£6.99

gbp prices

Offer price:

£9.99

Rewards/RRP:

£32.95

gbp prices

Offer price:

£8.99

Rewards/RRP:

£12.99

gbp prices

Offer price:

£3.49

Rewards/RRP:

£6.99

gbp prices

Offer price:

£39.99

Rewards/RRP:

£130.74

gbp prices

Offer price:

£4.99

Rewards/RRP:

£7.99

gbp prices

Offer price:

£4.99

Rewards/RRP:

£7.99

gbp prices

Offer price:

£4.99

Rewards/RRP:

£9.99

gbp prices

Offer price:

£8.99

Rewards/RRP:

£12.99

gbp prices

Offer price:

£16.99

Rewards/RRP:

£30.00

gbp prices

Offer price:

£3.99

Rewards/RRP:

£5.99

gbp prices

Offer price:

£3.99

Rewards/RRP:

£6.99

gbp prices

Offer price:

£7.99

Rewards/RRP:

£12.99

gbp prices

Offer price:

£4.99

Rewards/RRP:

£7.99

gbp prices

Offer price:

£5.99

Rewards/RRP:

£8.99

gbp prices

Offer price:

£7.99

Rewards/RRP:

£12.99

gbp prices

Offer price:

£7.99

Rewards/RRP:

£17.97

gbp prices

Offer price:

£9.99

Rewards/RRP:

£14.99

gbp prices

Offer price:

£3.99

Rewards/RRP:

£6.99

gbp prices

Offer price:

£5.99

Rewards/RRP:

£9.99

gbp prices

Offer price:

£9.99

Rewards/RRP:

£20.00

gbp prices

Offer price:

£5.99

Rewards/RRP:

£9.99

gbp prices

Offer price:

£9.99

Rewards/RRP:

£23.97
See more

TV and film favourites
TV and film favourites
gbp prices

Offer price:

£29.99

Rewards/RRP:

£59.93

gbp prices

Offer price:

£16.99

Rewards/RRP:

£34.95

gbp prices

Offer price:

£8.99

Rewards/RRP:

£12.99

gbp prices

Offer price:

£34.99

Rewards/RRP:

£83.88

gbp prices

Offer price:

£4.99

Rewards/RRP:

£9.99

gbp prices

Offer price:

£4.99

Rewards/RRP:

£7.99

gbp prices

Offer price:

£2.99

Rewards/RRP:

£7.99

gbp prices

Offer price:

£2.99

Rewards/RRP:

£5.99

gbp prices

Offer price:

£34.99

Rewards/RRP:

£69.90

gbp prices

Offer price:

£5.99

Rewards/RRP:

£11.96

gbp prices

Offer price:

£4.99

Rewards/RRP:

£7.99

gbp prices

Offer price:

£2.99

Rewards/RRP:

£4.99

gbp prices

Offer price:

£6.99

Rewards/RRP:

£9.99

gbp prices

Offer price:

£7.99

Rewards/RRP:

£12.99

gbp prices

Offer price:

£9.99

Rewards/RRP:

£14.99

gbp prices

Offer price:

£9.99

Rewards/RRP:

£23.96

gbp prices

Offer price:

£4.99

Rewards/RRP:

£7.99

gbp prices

Offer price:

£2.99

Rewards/RRP:

£5.99

gbp prices

Offer price:

£7.99

Rewards/RRP:

£12.99

gbp prices

Offer price:

£4.99

Rewards/RRP:

£7.99

gbp prices

Offer price:

£21.99

Rewards/RRP:

£39.96

gbp prices

Offer price:

£2.99

Rewards/RRP:

£7.99

gbp prices

Offer price:

£2.99

Rewards/RRP:

£5.99

gbp prices

Offer price:

£6.99

Rewards/RRP:

£9.99

gbp prices

Offer price:

£2.99

Rewards/RRP:

£5.99

gbp prices

Offer price:

£6.99

Rewards/RRP:

£9.99

gbp prices

Offer price:

£2.99

Rewards/RRP:

£5.99

gbp prices

Offer price:

£2.99

Rewards/RRP:

£5.99
See more

Activities and stationery for creative teens
Activities and stationery for creative teens
gbp prices

Offer price:

£2.99

Rewards/RRP:

£7.99

gbp prices

Offer price:

£2.99

Rewards/RRP:

£6.99

gbp prices

Offer price:

£3.99

Rewards/RRP:

£5.99

gbp prices

Offer price:

£9.99

Rewards/RRP:

£14.99

gbp prices

Offer price:

£7.99

Rewards/RRP:

£12.99

gbp prices

Offer price:

£4.99

Rewards/RRP:

£7.99

gbp prices

Offer price:

£2.99

Rewards/RRP:

£7.99

gbp prices

Offer price:

£2.99

Rewards/RRP:

£4.99

gbp prices

Offer price:

£5.99

Rewards/RRP:

£9.99

gbp prices

Offer price:

£5.99

Rewards/RRP:

£8.99

gbp prices

Offer price:

£4.99

Rewards/RRP:

£7.99