New to Scholastic Rewards?
Schools can earn Scholastic Rewards by running Book Clubs and Fairs, and through purchases made by teachers and parents from our shop. We donate 20p in Scholastic Rewards to a school of the customer's choice for every £1 spent on orders of £10 or more from the Scholastic Shop.
Spending Scholastic Rewards online
If you work at a school and have Scholastic Rewards that you want to use, please log in or register. If we don't already know, we'll need you to tell us which school you work at. (To pay using your school's Scholastic Rewards balance, you must be registered on this website as a teacher at that school.)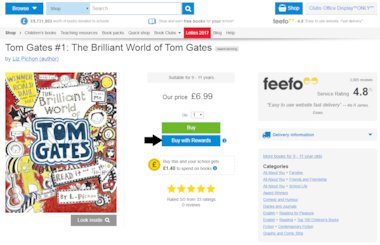 Browsing the Scholastic Shop
If you're browsing the shop and find a product you'd like to buy using your Scholastic Rewards, just select the 'Buy with Rewards' button to add it to your basket. Don't select the 'Buy' button. Please also note your voucher number will not work in the Promotion Code field.
Can't see the blue button? You need to log in to the site and tell us where you work. If you still can't see the button, it means that particular product isn't available with Rewards.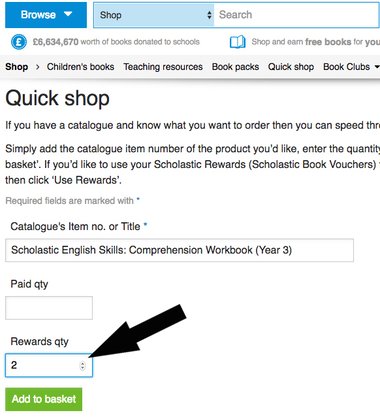 Using Quick Shop
If you know what you want to order and are using one of our Quick Order forms, you can just enter into the 'Rewards qty' box the number of items you'd like to pay for using Rewards.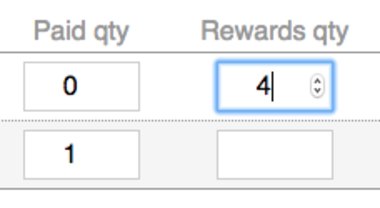 Amending your order
If you change your mind about which items you'd like to pay for using Scholastic Rewards, you can just go to your shopping basket and amend the quantities in the 'Paid qty' and 'Rewards qty' columns.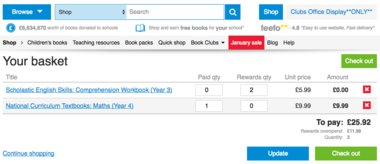 Example
This customer will be paying for two Comprehension Workbooks using Scholastic Rewards. They will be paying for one National Curriculum Textbook by credit card or invoice.
---
Shop the range
Rewards are redeemable on thousands of books, at full RRP.
Need help with Rewards? Call 01993 893 453 or email enquiries@scholastic.co.uk.
FREE books for your school
Every order over £10 earns 20% of the order value back to your chosen school in FREE BOOKS