PM Benchmark Kit Training
PM Benchmark Kit Training
We now offer in-school training to help you make the most of the Benchmark Kits and running records.
Understand better how to assess students' fluency and retelling strategies while determining their level of comprehension, both within and beyond the text. Benchmark Kit Training will take place over two 1.5 hour sessions, one week apart, and will cover: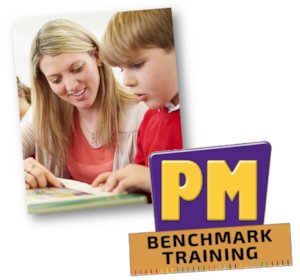 Session 1
The balanced reader
How levelled texts work
Understanding the benchmarking of progress in reading
How to take a running record
Session 2
Further understanding of the balanced reader
Fully analysing the running record (meaning, structure, visual) to inform instruction
Using the running record to inform instruction, linking to the requirements of the National Curriculum, guided reading organisation and age-related expectations
A practical benchmarking task will be set by the course trainer to be completed between session 1 and session 2.
Call 01926 816 266 or email training@scholastic.co.uk for more information.
(Some geographical restrictions may apply.)
---
Meet Rose and Mary
Rose and Mary have over sixty years of combined teaching experience and they will be instructing PM Benchmark Kit Training. Take a look at our new videos to find out more about Benchmark Kit Training and get some top tips from these Reading Experts.
What is Benchmark Kit Training?
Top Tips for developing fluency
---