Home Learning
Our carefully selected range of home learning resource packs and practice books are designed to help your child get the most from school and support their test and exam preparation, whether they're sitting phonics screening tests, SATs or GCSEs. Closely matched to the National Curriculum, every resource provides engaging, reliable practice for all key skills, whatever your child's age or stage.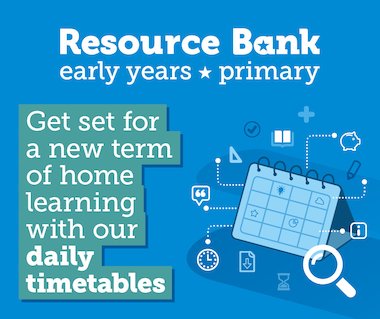 Scholastic Resource Bank have created a range of home learning daily timetables for Early Years, Key Stage 1, and Lower and Upper Key Stage 2. Each timetable provides a clear and structured approach for the whole school day, helping your children stay engaged and entertained from 9am-3.15pm. Find out more.
Select your child's learning stage below, or scroll to browse our latest and bestselling home learning products.
---
Browse our Home Learning Series
Bestselling At-Home Practice Books
Perfect for use at home, these National Curriculum practice books have been developed by teachers to support Curriculum objectives. Each book contains over 100 activities and is linked to a dedicated website offering extra interactive activities, help and answers.
Our Latest Home Learning Resources
Browse our very latest Home Learning books and resources! Closely matched to the National Curriculum, each book is perfect for keeping key skills sharp and boosting confidence.
Homework Helpers
From beautifully illustrated dictionaries to phonics support from Biff, Chip and Kipper, our range of home learning activity books and essentials are sure to keep children engaged at home!
Handwriting Practice
Help your child to acquire and improve handwriting skills with our great value range of workbooks and wipe-clean activity books, available from just £2.79.
Curriculum-Linked Non-Fiction
Our range of interesting and inspiring non-fiction books are linked to the National Curriculum and perfect for adding context and meaning to what your child is learning!
Downloadable Resources
From just 99p per pack, our range of downloadable worksheet bundles are perfect for keeping children engaged and learning! Purchase individual packs, our join Scholastic Resource Bank from just £15 per year to access the whole range, plus thousands of other high quality resources.
Become a member of Scholastic Resource Bank from just £1.25 per month to access our full range of premium activity packs, worksheets, interactives, articles and more to support your child at home.

To download our range of free activity packs and worksheets, simply create a free account.

Home Learning Book Packs
Support reading progress with Home Learning book packs, designed to encourage learners at every age and stage.
---