Book Club with Michael Rosen | Scholastic Live
Book Club with Michael Rosen
Join Michael Rosen at 4pm on Friday 5th March for a book club discussion all about his new book, Macbeth United.
Suitable for ages 7+
Register with the password clubsandfairs.
---
Books by Michael Rosen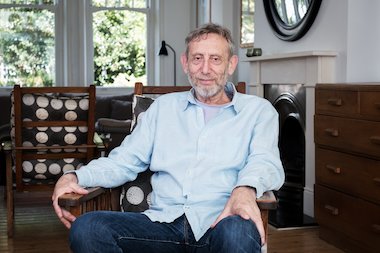 Michael Rosen was born into a London Jewish family, the son of two distinguished educators – Connie and Harold Rosen. Michael's childhood was rich in books, stories and conversation. Michael attended Middlesex Hospital Medical School for a year but transferred to Wadham College, Oxford to study English Literature. At Oxford, he started to realise his ambition of acting (as well as writing and directing). Michael still says that if he wasn't a poet, he'd like to be an actor. Anyone who has seen him in performance knows that he already is! The narrowness of his course of study proved a source of dissatisfaction and Michael began looking outside his recommended reading to contemporary working, class ballads. He retains a passion for street rhymes, popular songs and folk stories. Michael Rosen has been writing poetry since the age of 18. His first collection, Mind Your Own Business, was published in 1974. Although it was not planned as a collection for children, it appeared on Andre Deutsch's children's list. This, says Michael, was a turning point – "Suddenly it all fused: the writing, the performing, the popular audience. It was just incredibly exhilarating." He quickly made a name for himself with his collections of humorous verse and picture books for children. He is described as one of the most significant figures in contemporary children's poetry, drawing closely on his own childhood experiences, and 'telling it as it was' in the ordinary language children actually use. Michael is now a poet, author and broadcaster, and was Children's Laureate from 2007-2009.
Photo credit: Dave Stelfox
---
Downloadable Activities
---