Escape the Rooms | Stephen Mangan and Anita Mangan

The last thing Jack expected when he bungee-jumped at the fairground was to go plummeting right through the ground into the weird, wonderful Rooms…
There he must face a series of puzzles and traps alongside a mysterious girl called Cally, in order for them to find their way home. Throw in a murderous polar bear, hundreds of tiny yet ferocious lions, some mind-blowing riddles, and get ready for a hilarious, helter-skelter adventure like no other!
"[Escape the Rooms] is richly imagined and deeply heartfelt, and Anita Mangan's cartoonish and poignant illustrations capture the tone perfectly … It reminded me a little of The Wizard of Oz, with the children on a quest through different lands to get home." Hadley Freeman, Guardian
---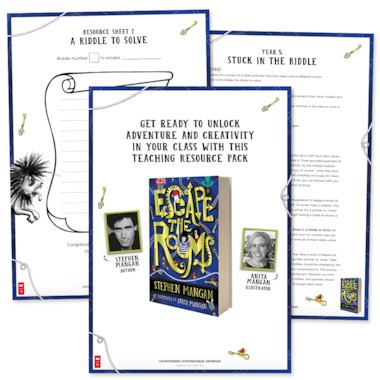 Free teaching resources for Years 5 and 6
Unlock creativity and adventure in your class with special teaching resources.
Wildly funny and endlessly surprising, Escape the Rooms is also a story about friendship, overcoming fears and being kind to yourself.
Download the resources
We asked Stephen Mangan…
---