We are delivering all orders as normal – please note that there may be a slight delay to some orders due to safe working practices in our warehouse. remove
Charlie Higson
Biography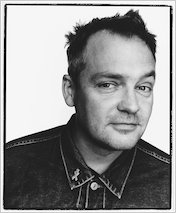 Charlie Higson is author of the Young Bond books, but probably better known to parents and teachers from the iconic The Fast Show.
After studying at the University of East Anglia, Charlie Higson formed a band, The Higsons, who toured extensively and recorded two albums. He then became a decorator before drifting into the world of television and going into partnership with his friend Paul Whitehouse.
Their first successes were in 1987 with Harry Enfield on Saturday Live and they went on to write the Harry Enfield Television Programme. Charlie then worked on The Smell of Reeves and Mortimer and Shooting Stars and, in 1994, created with Paul their own sketch show The Fast Show. Charlie co-wrote the film Suite 16 and wrote, produced and directed two television series of Randall and Hopkirk Deceased starring Vic Reeves and Bob Mortimer. He also completed two series of Swiss Toni in which he starred, co-wrote and co-produced.
Charlie is also a successful adult novelist. He has written four thrillers, King of the Ants (1992), Happy Now (1993), Full Whack (1995) and Getting Rid of Mr Kitchen (1996) and has adapted King of the Ants into a screenplay.
More recently, he again teamed up with Paul Whitehouse to co-produce the radio series 'Down the Line' for BBC Radio 4, in which they also performed. It was awarded Best Radio Programme 2006 at the British Broadcasting Press Awards and Best Radio Comedy 2006 at The New York Festival Awards.
He has now written five Young Bond books. Charlie's first non-Bond book for teenagers is published in Autumn 2009 – The Enemy, an action horror about a sickness that sweeps through London.
Books
by Charlie Higson
gbp prices

£5.59

Save £1.40

You have earned 5 stars

of a maximum 5

(1)

gbp prices

£6.99

Temporarily out of stock - due soon

You have earned 4 stars

of a maximum 5

(3)

You have earned 5 stars

of a maximum 5

(1)

You have earned 5 stars

of a maximum 5

(3)

You have earned 5 stars

of a maximum 5

(1)
Interview with Charlie Higson
How did you get involved in writing the Young Bond books?
I was asked to write them by Ian Fleming Publications, they are the organization that looks after the James Bond books. As I am a huge Bond fan and have three boys it was a dream job for me.
How much of a fan were you of Ian Fleming before you began writing your own Bond novels?
I grew up in the sixties – so I couldn't avoid being a Bond fan. He was just about the coolest thing on the planet. The first film I ever remember going to see in the cinema was Thunderball, and when You Only Live Twice came out I was completely obsessed. Bond was the sixties. In my twenties I got around to reading the Fleming books and was instantly hooked – they are still incredibly readable. He pretty well invented the modern, international, brand-name thriller. And of course he invented Bond, James Bond. Bond keeps on being reinvented for each new in generation, and when I had three boys of my own my wife got very angry when I bought them a complete box set of Bond DVDs when they were very small – she claimed they were far too young and should be watching Thomas the Tank Engine.
How did his books influence yours?
The first thing I did when I got the Young Bond job was sit down and re-read all the Flemings in order. I wanted to get inside his head. I knew I wasn't going to try and ape his literary style, but I did want to capture his spirit. I wanted to use the same type of plots, characters, situations and locations as him (for instance there is always a torture scene – not an easy thing to pull off when you're writing for children!). Fleming's books are very vivid and pacey, he puts you right into the heart of the action. I tried to make my own books work in the same way – after all, you can't bore kids – but Fleming also slipped in a bit of education (about gambling, cars, golf, heraldry, diamonds, gold, guns etc.), which I have also tried to imitate. I hope that kids come away from my books shaken, stirred and marginally better informed.
What is the young James Bond like?
He is a loner who nevertheless makes friends easily. He has a strong sense of right and wrong. He is brave and resourceful. And he is good at punching. At the start of the first book – SilverFin – he is an ordinary 13 year old boy (albeit one who has lost his parents), starting his first day at 'big' school. I wanted kids reading the book to be able to identify with him, I didn't want him to be a mini, shrunk-down version of the super-cool Pierce Brosnan (who was Bond at the time). Neither did I want him to already be Fleming's ruthless, professional killer. Fleming hints that as a boy Bond was a fairly ordinary but he has changed as he has grown older (for the worse). I wanted to show Bond growing up through my books, learning a little about the world, and becoming more cynical and hardened. By the end of By Royal Command we see him poised on the edge of becoming Fleming's Bond. He is very much ready for the next phase of his life. He has come a long way – but still has far to go.
So, where does he go from here?
Well, first of all to a new school – Fettes, in Scotland (that's not a spoiler, anyone who has read the adult Bond books knows the story). But the big thing looming on his horizon is the second world war. The events of By Royal Command take place in 1934 so the war is only 5 years away. Bond will be 19 when war breaks out, and we know that he went into naval intelligence – MI6 – and worked as an agent overseas. I think it would be really interesting to find out more about his early wartime experiences, his training in Scotland, his 1st missions, his gaining the 00 status. That would be a fun job for a writer.
Do you have a favourite Bond film?
Probably You Only Live Twice. It came out when I was 10 and was the most exciting thing in the world. Donald Pleasance as Blofeld is the ultimate Bond baddie.
And if you had to choose someone to play Young Bond in a movie version of the books, who would you pick?
We'd have to do a huge, nationwide casting. It would be a very tough role for a kid to play.
Lots of Bond fans were pretty sceptical before the first book was released, saying that it should never be done. Are you feeling smug now that you've proved how popular the stories can be?
Very smug. But what I'm most pleased about is that kids like the books. I'd never written for children before, so I had no idea if they would like the books or not.
Do you enjoy writing about Bond gadgets and evil henchmen?
Evil henchmen, yes. I love creating bad guys. Gadgets I'm not so good at. Which is why I was pleased that these books were going to be set in the 30s when there wasn't much scope for fancy gadgets. I've worked a few in, though, like the apache gun in Double Or Die, and in the new book James has a special sort of utility jacket.
What's your favourite Bond gadget?
The jet pack in Thunderball and the ejector seat in Goldfinger. When the kids are getting on my nerves in the car I often dream of an ejector seat.
If you could dream up a new gadget to do ANYTHING you wanted, what would it be?
Something that would be able to put my awful typing into proper English. Spell checkers just can't keep up with me. The new i-phones are great, the texting device seems to know what you're trying to say.
Was writing books always on the cards for you?
I started writing when I was about 12 or 13, I used to write books in my room when I was supposed to be doing my homework, so, yes, it was always on the cards. I love writing – being able to create people, places, whole worlds, it's very exciting. A bit like being God.
Do you think you'll do any more books for young people?
I have signed a deal with Puffin books to a new series for children. They are going to be action adventures, but with a horror angle.
Is writing fun? We've spoken to other authors who've said it's quite lonely?
It's both. I don't mind being alone, so it suits me. When the work is going well you lose yourself in it, when it's not going so well you sometimes think you are wasting your life sitting alone in a tiny little room tapping away at a computer all day.
How do you manage to have such a simple, direct writing style, that's still SO entertaining?
God knows. I've always liked hard-boiled American crime thrillers, where the writers don't waste any time, so I suppose I'm just copying them. Writing for kids is tough, you have to hold their attention, so I do a lot of work when I've finished the books, cutting them down and taking out any unnecessary stuff. In the end I just try to write the sort of books I'd have liked to read when I was a kid.
I read that you test the books out by reading them to your children first. Is that true?
It is, and it's their fault the books are so violent; being boys they just want to kill all the characters and have huge battles all the time. But I do try to sneak a bit of story past them along the way.
Are they a good audience?
They're great. I can easily see when they're getting bored, and if they fall asleep I know its time to put in some more killing!
Were you surprised that girls seem to enjoy the books as much as boys?
Not really. Girls read a lot and aren't as worried as boys are about being seen reading the wrong type of book. I try to put strong and interesting female characters in the books (the villain in Hurricane Gold is even female), and girls have always loved James Bond anyway.
Young Bond takes on Alex Rider in trying to solve a mystery. Who'd come out on top?
Bond, James Bond – though it would be very close!
You've been in a band, acted, been a comedian, been a writer…what do you prefer?
I started as a writer, and I'll end as a writer, though I love doing all the other stuff as well.
Is there anything else that you haven't done career-wise that you still want to try?
Not really, no. I've had a very lucky life, to be able to work and make money doing something you love is a blessing.
(Interview courtesy of www.cbbc.co.uk)