Basher Basics: Punctuation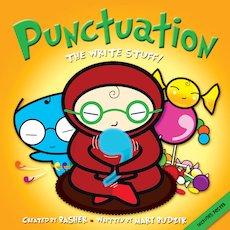 Look inside
Average rating
This item has 5 stars
of a maximum 5
Additional Information
ISBN
9780753419649
Publisher
Other details
64 pages
Suitable for 9 - 11 years
Punctuation marks go manga. Cool. Streetwise smarts with a fold-out poster. Manga pics by a top UK urban artist. Facts with attitude. There's nobody quite like Basher. He uses punchy street art to bring alive the world of knowledge in quirky personality profiles. And now it's the turn of punctuation. Yup: Basher is giving a streetwise face to all those confusing grammatical marks. Chilled-out Semicolon; the gossipy Brackets (they love to butt in). And a very final Full Stop.
"The look is punchy, immediate and effective. The content is equally gripping." Guardian
Part of the following pack:
Packs
gbp prices

Our price £13.98
Reviews
This product has not been reviewed yet.
Add a review