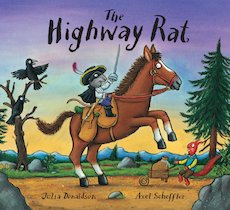 Look inside
Rate this product
Additional Information
Item number

Item format

ISBN

Other details

Accelerated Reader

AR Level: 4.0 Lower years (0.5 points)
"Give me your buns and your biscuits! Give me your chocolate éclairs! For I am the Rat of the highway, and the Rat Thief never shares!"
You may have heard of a Highwayman – but what about a Highway Rat? No food is safe from this rascally rodent! He steals clover from a rabbit, and snaffles nuts from a squirrel. He even hijacks his own horse's hay! But when a cunning duck crosses his path, has the Highway Rat met his match? Put your hands up for this rhyming romp from the current Children's Laureate, starring a wickedly loveable baddie who'll steal your grub – and your heart! This hilarious cautionary tale about greed and its comeuppance will enchant every reader.
gbp prices

RRP £10.99
You

save

£3.30
Buy this and your school gets £1.54 to spend on books
Free stuff
Try before you buy with free sample pages and first chapters, and download free classroom resources, activity sheets, quizzes and much more.
Reviews