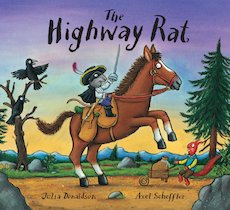 Look inside
Average rating
This item has 4 stars
of a maximum 5
Additional Information
Format
Book Hardback (or cased)
ISBN
9781407124377
Publisher
Accelerated Reader
AR Level: 4.0 Lower years (0.5 points)
Other details
32 pages
Suitable for 2 - 6 years
A bedtime rhyme with rattitude from Julia and Axel. This cute bandit will ambush your heart. You may have heard of a Highwayman – but what about a Highway Rat? This rascally rodent steals nuts from squirrels. He even hijacks his own horse's hay. Hold tight to your supper: no food is safe. But when a cunning duck crosses his path, has the Highway Rat met his match? In a beautiful hardback edition, this rhyming romp brings you a classic new character. He's furry, he's adorably naughty and we want to give him a big hug.
Part of the following packs:
Packs
gbp prices

Our price £12.99

gbp prices

Our price £25.17

Sold out
Free stuff
Try before you buy with free sample pages and first chapters, and download free classroom resources, activity sheets, quizzes and much more.
Previews
Reviews
This product has not been reviewed yet.
Add a review