The Bookshop Girl
The Bookshop Girl is written by Sylvia Bishop and illustrated by Ashley King, the pair behind Erica's Elephant.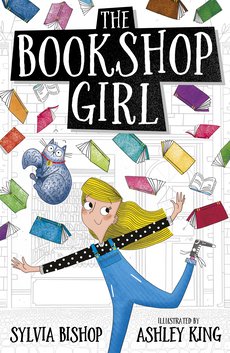 This story is about a little girl named Property Jones, so-called because she was left in the lost property cupboard of a bookshop when she was five years old. Property loves living in the bookshop, but she has a whopper of a secret … she can't actually read! So Property doesn't see the newspaper article announcing the chance to win the Montgomery Book Emporium, the biggest and most magnificent bookshop in the world! When her family win the competition, Property finds herself moving to the Emporium, a magical place filled with floor upon floor of books and a very bad-tempered cat. But all is not at it seems at the Emporium and soon Property Jones finds herself in a whole heap of trouble.
Read an extract
Buy the book
---
Erica's Elephant
When Erica Perkins wakes up on the morning of her tenth birthday, the last thing she expects is to find a very confused elephant sitting on her doorstep. So begins an unlikely friendship. But can a small girl and a rather large elephant learn to live together in a tiny terraced house? And when the dastardly owner of the local zoo plots to steal the elephant, will Erica be able to outsmart him?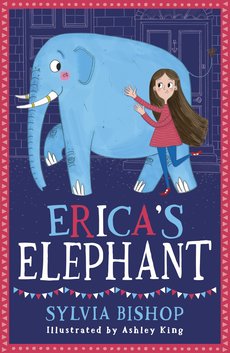 ---
Meet Sylvia Bishop and Ashley King
Sylvia Bishop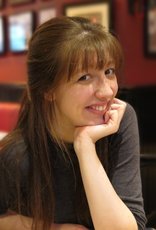 Sylvia Bishop spent an entire childhood reading fiction, dreaming up stories and Pretending. She then tried very hard to get to grips with the real world by studying politics and going in to social science research. This was a shock. Thankfully, she discovered improvised comedy at university, which allowed her to carry on making up stories for at least 30% of her waking hours.
Now she writes her stories down, preferably by lamp-light with tea. She only ever really writes the bad ones: the good ones write themselves without warning, generally when she was planning to go to bed.
Sylvia now lives in London and is one half of the brilliant comedy duo Peablossom Cabaret.
Follow Sylvia on Twitter @sylviabishop and visit her website http://sylviabishopbooks.weebly.com/.
Ashley King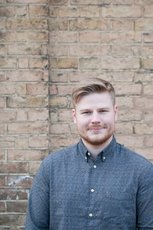 Ashley is a passionate illustrator who hand draws, paints, creates, doodles, scribbles and loves coffee and cake.
He graduated from Coventry University with a degree in Illustration and Animation and is the illustrator of Erica's Elephant and The Bookshop Girl.
Follow Ashley on Twitter @Ashillustrates and visit his website http://cargocollective.com/ashleykingillustration.
---
Sylvia Bishop and Ashley King tell us more about Erica's Elephant and The Bookshop Girl
---