Scholastic Schools Live | Garry Parsons and Simon James Green
Drawalong and Story: How to be fabulous with Simon James Green and Garry Parsons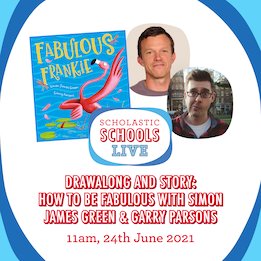 Discover the key to being
FABULOUS

with Simon James Green and Garry Parsons, the creators of Fabulous Frankie and Llama Glamarama, at 11am on the 24th June. This will be an interactive and hilarious session with plenty of storytelling and live drawing! Simon and Garry will be discussing the importance of kindness, empathy and what it truly means to be

FABULOUS

like Frankie the flamingo.
Simon James Green has established himself as a leading
LBGTQ

+ author for children's books in the UK. He contributed to the Proud book anthology, and his successful Noah books (Noah Can't Even, Noah Could Never, and the short story Noah Goes Nuclear) were optioned for television. His debut middle-grade book, Life of Riley: Beginner's Luck, was shortlisted for the 2021 Blue Peter Book Awards.
Garry Parsons has worked with many of the UK's most talented writers and is the illustrator of the best-selling Dinosaur That Pooped series. His children's illustrations are regularly aired as part of CBeebies' Bedtime Story. He lives in South London with his young family and old doggie.
Suitable for ages 3+.
Register with the password

FABULOUS

.
---
Books by Simon James Green and Garry Parsons
---