Scholastic Loyalty Scheme
Last year, we gave back over £6 million worth of free books to schools like yours.
At Scholastic, we're as passionate as you are about putting books in children's hands and getting them reading. That's why, when you partner with us, we help to make reading even more rewarding for your school by giving you the opportunity to earn extra rewards to spend on stocking your classrooms and libraries.
When you buy books from Scholastic you'll always earn free books, but did you know that every time you run a Scholastic Book Club or Book Fair it counts towards additional rewards?
The maths is simple. More events = more free books!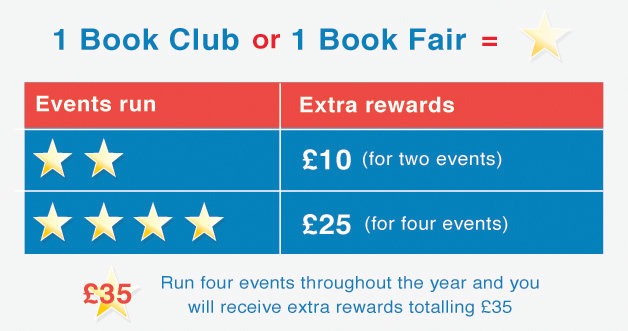 Run two events* with us, and we'll give you £10 worth of rewards
Run another two events, and we'll give you an additional £25 in rewards – a total of £35 of rewards to spend on free books and resources
Start earning free books for your school now
Run a Book Club
Run a Book Fair
*A book event can be either a Book Club order £50+ or a Book Fair with takings £300+. Only one event counts per offer per school.