Beast Quest: Series 11 Pack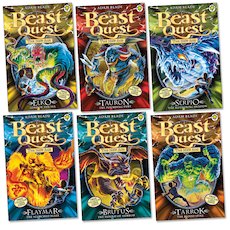 Look inside
Rate this product
Kensa the Sorceress seeks to overthrow Avantia and become its cruel ruler. She has created six Evil Beasts to do her bidding. It's up to Tom and his faithful companions to defeat them, facing the deadliest danger they have ever known! Avantia's young hero has already proved his mettle in many dangerous missions. But now he faces a foe even more terrible than his old nemesis, Malvel. Can he find the strength to overcome Kensa and her wicked Beasts, and save his kingdom from the ultimate tyranny?
gbp prices

RRP £29.94
You

save

£15.45
Buy this and your school gets £2.90 to spend on books
Free stuff
Try before you buy with free sample pages and first chapters, and download free classroom resources, activity sheets, quizzes and much more.
Reviews