Horrid Henry Factbooks Pack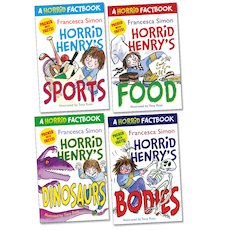 Look inside
Rate this product
Did you know that if your intestines were removed they would stretch round a tennis court several times over? Can you guess who is the biggest cheater in the sporting world? Have you ever wondered what your brain would feel like if you touched it? From devilish dinosaurs to freaky foods and violent sporting battles, chuckle as Horrid Henry gives you the facts – HIS way! Whet your appetite for facts with these frightfully funny guides, featuring the world's favourite tiny terror. Each book takes a revolting look at best-loved topics, while Tony Ross's hilarious pictures add to the amusement. A brilliantly wicked way to build reading skills and brains!
gbp prices

RRP £19.96
You

save

£3.99
Buy this and your school gets £3.19 to spend on books
Free stuff
Try before you buy with free sample pages and first chapters, and download free classroom resources, activity sheets, quizzes and much more.
Reviews