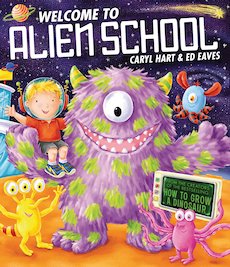 Look inside
Average rating
This item has 0 stars
of a maximum 5
Additional Information
ISBN
9780857072573
Other details
32 pages
Suitable for 5 - 7 years
When Mum calls Albie for school one morning, he really doesn't want to go! He's much too busy playing at space rescues with his toys. But once Albie steps into the playground, he quickly realises that this isn't any old school. It's Alien School – and a big, shaggy alien is heading his way! Join Albie as he makes some very odd intergalactic friends, munches on space-ghetti at the school canteen and rides on space scooters. School has never been so much fun! A colourful and imaginative caper from the wildly popular duo behind How to Grow a Dinosaur and Supermarket Zoo.
Part of the following pack:
Packs
New product

gbp prices

Our price £25.56
Free stuff
Try before you buy with free sample pages and first chapters, and download free classroom resources, activity sheets, quizzes and much more.
Previews
Reviews
This product has not been reviewed yet.
Add a review