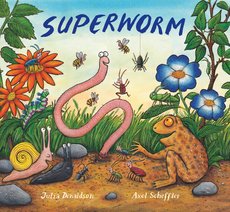 Enlarge cover
Rate this product
Additional Information
Item number

Item format

ISBN

Other details
Do you love funny rhymes and brave heroes? Meet the super-strong (and long) Superworm. He's not your ordinary hero with massive muscles. Nope: he's super-skinny. But not weedy at all. When trouble strikes, this brave worm wriggles to the rescue. He can turn into a life-saving rope, and squiggle into really tiny spaces. We don't know what we like more: Julia Donaldson's bouncy rhymes or Axel Scheffler's jolly art. But it's the super-helpful Superworm that we love best of all.
gbp prices

RRP £6.99
You

save

£3.00
Buy this and your school gets £0.80 to spend on books
Packs

New product
gbp prices

Our price £76.69
Free stuff
Try before you buy with free sample pages and first chapters, and download free classroom resources, activity sheets, quizzes and much more.
Reviews