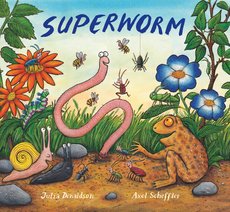 Enlarge cover
Rate this product
Additional Information
Item number

Item format

ISBN

Other details
The Red House Book Award winner. As super as picture books come. Superworm is not your ordinary hero with massive muscles. Nope: he's super-skinny. But not weedy at all. When trouble strikes, this brave worm can turn into a life-saving rope. Or squiggle to the rescue in the tiniest spaces. We don't know what we like more: Julia Donaldson's bouncy rhymes or Axel Scheffler's jolly art. But it's the super-helpful Superworm that we love best of all.
gbp prices

RRP £6.99
You

save

£3.00
Buy this and your school gets £0.80 to spend on books
Packs
New product

gbp prices

Our price £76.69
Free stuff
Try before you buy with free sample pages and first chapters, and download free classroom resources, activity sheets, quizzes and much more.
Reviews