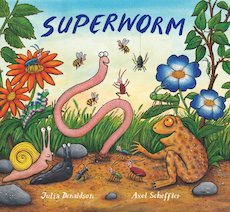 Look inside
Rate this product
Additional Information
Item number

Item format

ISBN

Other details
Superworm is super-long. Superworm is super-strong. Watch him wiggle! See him squirm! There's no one like Superworm! If there's a problem, far or near… Never fear. Our hero's here! He fishes Spider out of a well, and rescues Toad from a road. But who will come to Superworm's rescue when he's captured by a wicked Wizard Lizard? Luckily, his creepy-crawly friends have a cunning plan… Children's Laureate Julia Donaldson introduces a heart-melting new hero in this delightful story of the versatile, plucky and super-helpful Superworm!
gbp prices

RRP £10.99
You

save

£5.50
Buy this and your school gets £1.10 to spend on books
Free stuff
Try before you buy with free sample pages and first chapters, and download free classroom resources, activity sheets, quizzes and much more.
Reviews