Magic Tree House: Pack of 6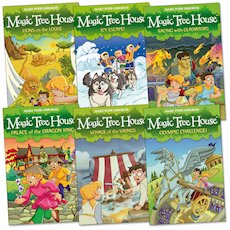 Enlarge cover
Rate this product
All through time. Right across the world. That's where the Magic Tree House will take you. Every time Jack and Annie climb to the top, they find an adventure waiting there! Taking readers into a world of excitement accessed through the secret library in the Magic Tree House, this series is the perfect way to spark imaginations and enthuse children about reading. Featuring an irresistible mix of magic, myth, history and mystery, these fantastic books are number one New York Times bestsellers. They have sold over seventy million copies in North America alone, and are available in more than thirty countries around the world.
gbp prices

RRP £23.94
You

save

£4.79
Buy this and your school gets £3.83 to spend on books
Free stuff
Try before you buy with free sample pages and first chapters, and download free classroom resources, activity sheets, quizzes and much more.
Reviews