Horrible Histories Annual: 2012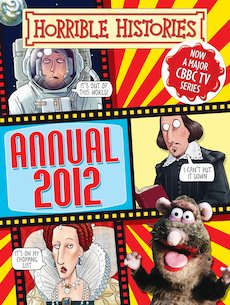 Enlarge cover
Rate this product
Additional Information
Item number

Item format

ISBN

Other details
New year! New nasty bits – all geared up for the 2012 Olympics, with a savage sporting theme! Yes… to celebrate the Olympic year, we're giving you the chance to clutch your stomach to a noxious brew of brutal bygone sporting facts. That means: gruesome Roman gladiators, naked Ancient Greeks and horrific Highland games! Not to mention wicked war games, beggar's dodges, Russian riots and the very deadly Space Race! Limber up and get your killer kit on. Are you ready to play – and slay?
gbp prices

RRP £7.99
You

save

£0.89
Buy this and your school gets £1.42 to spend on books
Free stuff
Try before you buy with free sample pages and first chapters, and download free classroom resources, activity sheets, quizzes and much more.
Reviews