Beast Quest: Series 7 Pack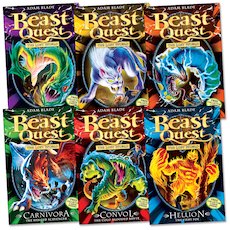 Look inside
Rate this product
In a strange new land, Tavania, Wizard Malvel's evil magic has enraged six terrifying new Beasts. Now heroic Tom is once again forced to the sword – and to the Quest to save them all! To restore harmony and bring peace to this lost world, he must face six living horrors and their terrible powers, battling for his life amid lightning-torn skies, frozen wastes and scorching desert sands! Can he prove himself a true hero yet again, and set the Beasts of Tavania free?
#ngkids
gbp prices

RRP £29.94
You

save

£15.45
Buy this and your school gets £2.90 to spend on books
Free stuff
Try before you buy with free sample pages and first chapters, and download free classroom resources, activity sheets, quizzes and much more.
Previews
Reviews