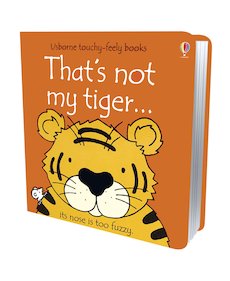 Look inside
Rate this product
Fluffy ears! Rough tongues! Soft tails to tug! Tickle and tease all kinds of cute tigers in this touchy-feely jungle adventure. There are lots of different tigers to stroke and discover: friendly tigers, big tigers and fluffy tigers. But will you find your special one in the end? This lovely board book from the popular Usborne Touchy-Feely series encourages children to try out simple words and see how their meanings match real objects in the world. The texture patches provide hours of fun and are great for developing hand-eye coordination.
Part of the following pack:
Packs
gbp prices

Our price £9.99
Temporarily out of stock - due 15/05/13
Free stuff
Try before you buy with free sample pages and first chapters, and download free classroom resources, activity sheets, quizzes and much more.
Reviews