Shockwave: Art and Science: Teacher's notes and 3 fact files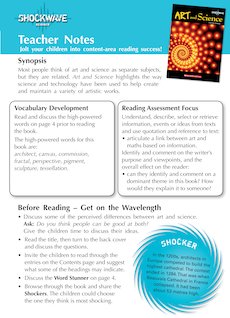 Enlarge cover
Rate this product
Additional Information
Item number

ISBN

Other details
High-interest non-fiction titles that will add depth to your project work and ensure engaging cross-curricular creative topic-led lessons
Discussion starters to get the whole class talking.
Develop children's comprehension skills and vocabulary with the glossary and index provided.
Superb photography to engage your pupils.
Detailed teacher and pupil support including synopsis of the reader, vocabulary development and objectives and guided reading notes.
The fact file card provides questions for children to challenge their partners and test their comprehension.
Buy this and your school gets £0.90 to spend on books
Free stuff
Try before you buy with free sample pages and first chapters, and download free classroom resources, activity sheets, quizzes and much more.
Reviews