Horrible Histories: Blitz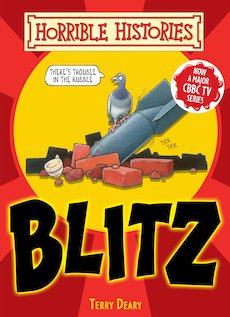 Enlarge cover
Average rating
This item has 0 stars
of a maximum 5
Additional Information
Format
Book Paper or Softback
ISBN
9781407117492
Other details
96 pages
Suitable for 8 - 12 years
A large-format paperback of the brilliant Blitz handbook! In the Second World War, lucky kids like you didn't have to go and fight. You got to stay at home and enjoy years of being blitzed by bombs. Jolly good! And as the Blitzed Brits knew, leaving the loo seat up would stop your house being blown to smithereens. And of course, in the blackout, curried carrot nosh was the perfect way to keep seeing in the dark. Seventy years ago, everyone knew these horrible facts. Do you? Find out if YOU could have survived the Blitz in this hilarious colour companion!
gbp prices

RRP £9.99
You

save

£3.00
Buy this and your school gets £1.40 to spend on books
Reviews
This product has not been reviewed yet.
Add a review