Horrible Histories: Spies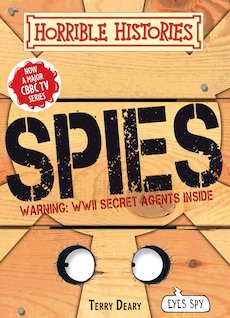 Enlarge cover
Average rating
This item has 5 stars
of a maximum 5
Additional Information
Format
Book Paper or Softback
ISBN
9781407117508
Other details
96 pages
Suitable for 8 - 12 years
The blood-curdling Horrible lowdown on how to survive as a spy. It's packed with terrific true-life tricks to make sure you don't die! Learn to crack cunning codes, use groovy gadgets and tail suspects in daft disguises. Sneak off with secret information – and cover your tracks so nobody ever guesses it was you. Become a spy so super that even James Bond will be jealous. But be warned! It's not all a big game, you know. This is a Horrible Histories book, after all … with heaps of NASTY BITS!
gbp prices

RRP £9.99
You

save

£3.00
Buy this and your school gets £1.40 to spend on books
Free stuff
Try before you buy with free sample pages and first chapters, and download free classroom resources, activity sheets, quizzes and much more.