Connectors: Getting Along - Contests, Conflicts and Combats x 6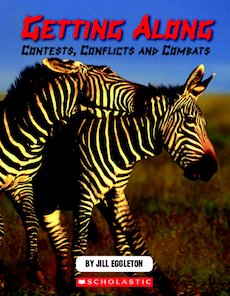 Enlarge cover
Rate this product
Connectors is a groundbreaking reading series which narrows the attainment gap through peer-to-peer learning. Children work in small independent groups, each taking a turn to be the leader as they read a book together, following prompts to make predictions and debate issues raised in the text.
Clear prompts represented by coloured faces show each child when it is their turn to read and lead, and how to focus the discussion to engage their team members. This exciting approach builds reading and listening skills, promotes successful teamwork and encourages every child to participate.
Peer-to-peer learning builds cooperation and trust between pupils, motivates disengaged learners, moderates behaviour and develops leadership and cognition skills. The Sutton Trust ranks peer tutoring as one of the most effective ways to improve overall achievement, with disadvantaged and low achieving pupils making particular gains.
Getting Along explores the role of aggression among animals. You may be surprised to know that aggression is a normal part of the animal kingdom – even among humans! Find out what role it plays among social animals and what it means for their survival.
gbp prices

RRP £30.00
You

save

£3.00
Temporarily out of stock - due soon
Buy this and your school gets £5.40 to spend on books
Free stuff
Try before you buy with free sample pages and first chapters, and download free classroom resources, activity sheets, quizzes and much more.
Reviews