Everyday French: Célébrons les Fêtes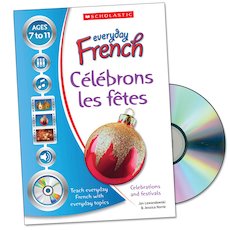 Look inside
Rate this product
Additional Information
Item number

Item format

Mixed Media - PB & CD Rom

ISBN

Other details
Teach French using an everyday topic with this lively resource book, which helps learners to build their all-round fluency by talking about festivals and celebrations. Through a dynamic range of activities, children develop their language knowledge relating to special times of the year including Christmas, Easter and Divali. They will also discover how the French celebrate festivals, including less familiar events such as Mardi Gras and Festival of the Kings. These imaginative, creative lessons will enrich any French scheme and are ideal for use by non-specialists. The lessons not only fit into the Framework for Languages but integrate language teaching with a wide range of other curriculum areas. Objectives, key vocabulary, practical activities, photocopiables and extension activities are provided for every unit in the book.
An accompanying CD-ROM includes songs, film, interactive whiteboard resources and cross-curricular activities, as well as audio recordings of spoken vocabulary to improve pronunciation skills.
gbp prices

RRP £30.00
You

save

£3.00
Buy this and your school gets £5.40 to spend on books
Packs
gbp prices

Our price £144.00
Series
Free stuff
Try before you buy with free sample pages and first chapters, and download free classroom resources, activity sheets, quizzes and much more.
Previews
Reviews