Nursery Education PLUS September 2009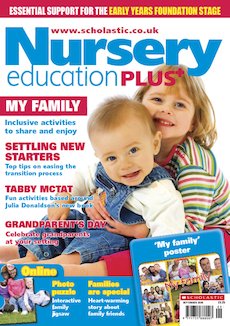 Look inside
Average rating
This item has 0 stars
of a maximum 5
Additional Information
Series
ISBN
9789980709097
Other details
The September 2009 issue of Nursery Education PLUS looks at the many and varied families that children might find. We explore family life in different cultures and countries and don't miss out on our great garden makeover article too!
A2 posters: Things to do in September and My family. (Select 'Look inside' to see this issues posters)
Buy this and your school gets £0.85 to spend on books
Free stuff
Try before you buy with free sample pages and first chapters, and download free classroom resources, activity sheets, quizzes and much more.
Previews
Reviews
This product has not been reviewed yet.
Add a review