You Can: Be an Effective Subject Leader (Ages 4-11)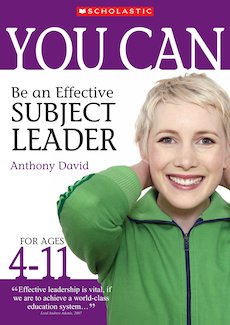 Enlarge cover
Rate this product
Additional Information
Item number

Item format

ISBN

Other details
"Effective leadership is vital, if we are to achieve a world-class education system, with every school a good school, and every pupil achieving." Lord Adonis
"The behaviours of school leaders have a greater influence on pupil performance than school structures or models." Independent Study into School Leadership, PricewaterhouseCoopers 2007
High-quality leadership is a must in any primary setting. A multitude of studies show that effective leadership has a direct positive influence on pupil performance. Now you can boost your skills quickly and easily with fifty practical, topical activities to improve your confidence and subject leadership skills. Full of inspirational suggestions and activity ideas that can be taken and used straightaway in the classroom, this guide is perfect whether you've been appointed to a new role or simply want to refresh your existing knowledge. Managing resources, motivating staff and coping with paperwork… this book has it covered!
gbp prices

RRP £20.00
You

save

£2.00
Buy this and your school gets £3.60 to spend on books
Free stuff
Try before you buy with free sample pages and first chapters, and download free classroom resources, activity sheets, quizzes and much more.
Reviews