Pie Corbett's Storyteller: The Gingerbread Man and Other Stories for 4-7 Year Olds x 6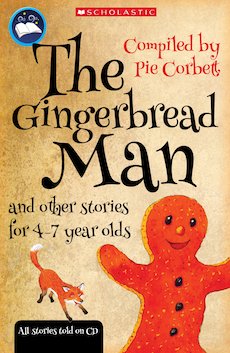 Enlarge cover
Rate this product
Don't just read – read aloud! With a treasure-trove of 15 favourite tales, each accompanied by an audio retelling read by a professional storyteller, this book gives children the perfect opportunity to read aloud, listen along, follow text, read together and do all the things they need to build their literacy skills! They'll meet gingerbread men, monkeys, magicians and more in this captivating collection, which comes with an audio CD.
gbp prices

RRP £41.94
You

save

£4.19
Buy this and your school gets £7.55 to spend on books
In this pack
gbp prices

Our price £6.30
Series
Free stuff
Try before you buy with free sample pages and first chapters, and download free classroom resources, activity sheets, quizzes and much more.
Reviews
Structure
Storyteller
Storyteller Teacher Resource Books and CD-ROMs
Each anthology is supported by a teacher's resource book written by Pie Corbett and CD-ROM with videos of storytellers telling their tales.
In the teacher's book:
General guidance on how to tell a story
Activities for each story in the children's anthology – getting to know each story through discussion, writing, drama, music or dance.
Speaking: guidance on how to tell each story aloud
Structure: a flow chart for each story
Telling to writing: ideas for adapting each story to make a new version
On the CD-ROM:
Let the children watch professional storytellers on the CD-ROM. Half the stories in the anthologies are told aloud by:
Pie Corbett
Taffy Thomas
Jane Grell
Xanthe Gresham
Each storyteller also tells his or her storytelling tips and thoughts.
Children's Books
There are three children's anthologies each containing about 15 traditional stories from around the world perfect for retelling. Each anthology contains some stories short enough to learn off-by-heart.
The Gingerbread Man and other stories for 4–7 year olds
Dragonory and other stories for 7–9 year olds
The Boy and the Tiger and other stories for 9–11 year olds
Each anthology is accompanied by an audio CD containing all the stories in the anthology read aloud by Pie Corbett, Xanthe Gresham or Taffy Thomas.