Quick Fix for Year 6: Comprehension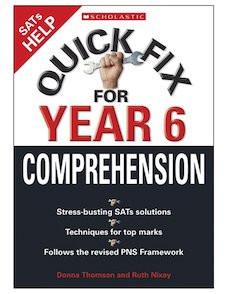 Look inside
Average rating
This item has 5 stars
of a maximum 5
Additional Information
Series
Format
Book Paper or Softback
ISBN
9780439945134
Publisher
Other details
96 pages
Suitable for 10 - 11 years
A quick SATs revision course to boost your children's comprehension skills.
Support your children to use a range of comprehension strategies.
The practice questions and answers throughout ensure that children are fully prepared.
Perfect for whole class teaching or group work.
Easy to use teaching notes to keep SATs terrors at bay!
gbp prices

RRP £20.00
You

save

£2.00
Buy this and your school gets £3.60 to spend on books
Free stuff
Try before you buy with free sample pages and first chapters, and download free classroom resources, activity sheets, quizzes and much more.
Previews