Rainbow Magic Jewel Fairies: India the Moonstone Fairy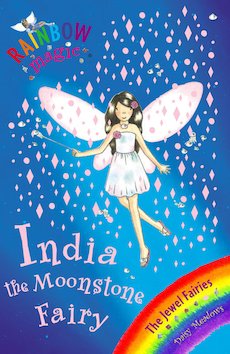 Enlarge cover
Rate this product
Additional Information
ISBN

Other details

Accelerated Reader

AR Level: 4.6 Lower years (1.0 points)
Disaster has struck Fairyland! Jack Frost's goblins have stolen the jewels from Queen Titania's crown. The fairies' magical powers are fading. Can Rachel and Kirsty help to get them back?
Part of the following packs:
Packs
gbp prices

Our price £13.97
gbp prices

Our price £99.99
Temporarily out of stock - due soon
Series
Free stuff
Try before you buy with free sample pages and first chapters, and download free classroom resources, activity sheets, quizzes and much more.
Reviews