Happy Birthday, Winnie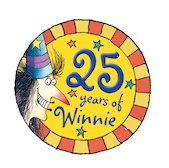 Winnie the Witch is 25 years old and we're celebrating with oodles of magical fun.
On Friday 13th July, at 1.30pm, Winnie will be starring in a special live birthday event at the Oxford Playhouse, along with illustrator Korky Paul and CBeebies presenter Cerrie Burnell.
The event will be streamed LIVE and will encourage children to unleash their imagination. Suitable for children aged 3-8, you can join in from your home, school, library or even broomstick…
Register now to join in the Winnie's Birthday Bonanza fun.
Visit our Kids' Site for your chance to win a special, signed anniversary edition of Winnie the Witch.
Download a party pack crammed with all the magic ingredients you need to hold a Winnie birthday party.
Teachers, download a free classroom pack.