Wimpy Kid 7 title and cover reveal!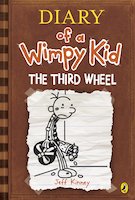 Hot news for Wimpy Kid fans! Book 7 will be published on November 14, 2012, and the cover and title have now been revealed.
The cover will be chocolate brown, and the title is Diary of a Wimpy Kid The Third Wheel.
Author Jeff Kinney has given just one tantalising spoiler…
"Writing The Third Wheel has been a lot of fun because there's so much humor to be mined in the world of middle school romance. When the dust settles at the end of the seventh book, the Wimpy universe will be changed in a way that will surprise fans of the series."
Can't wait? Browse Wimpy Kid books.
Keep checking back for more Wimpy Kid news!